(September 30, 2020). The first new No. 1 song of 1972 was Don McLean's "American Pie," the classic tune that metaphorically told the story of the day in 1959 when a plane crash took the lives of rock and roll legends Buddy Holly, The Big Bopper and Ritchie Valens.
In that song, McLean repeatedly used the refrain "the day the music died" to capture the impact of the simultaneous losses of all three musicians. It was McLean's first (and only) No. 1 single.
Later in 1972, two 31-year-old singers whose paths had crossed musically a year earlier would coincidentally get their own first No. 1 singles – songs whose themes reflected the polar opposite perspectives offered by male and female singers at a time when women's issues were becoming more prevalent in society.
Sadly, on Tuesday, September 29, both of those singers – Helen Reddy and Mac Davis – passed away at age 78.
Reddy, who had been battling a lengthy illness, died in Los Angeles. Davis, a country-pop singer who had success on both the country and pop charts in the 1970s, passed away in Nashville.
Reddy and Davis were born just three months (and half a world) apart in October 1941 and January 1942, respectively. Reddy was born in Melbourne, Australia, and Davis in Lubbock, TX. Three decades later their paths would cross musically on a song that would ironically become the signature tune for one and the record that launched the career for the other.
That song was "I Believe In Music," a tune written and recorded by Mac Davis in 1970. Davis released it as a single that year and it hardly made a dent on the charts, peaking on the Bubbling Under (the Hot 100) chart at No. 117.
That same year, Helen Reddy secured a one-song record deal with Capitol Records and recorded a cover of "I Believe In Music" as her first single.  Like the version by Davis, Reddy's version also flopped, not even reaching the Bubbling Under chart.
But its B-side (for younger readers, the B-side was the flip side of a 7" vinyl single record that wasn't the intended hit by the label) fared much better after a local radio station in Hartford, Connecticut began playing that side in heavy rotation following positive listener response.
The success of the B-side, entitled "I Don't Know How To Love Him" caused the label to flip the record and market it as the A-side. It became Reddy's first top-20 pop hit and it secured her a long-term deal with Capitol Records, where she eventually became an early-1970s superstar.
But before that superstardom came, there was the matter of that first No. 1 hit in 1972.  
That year, both Mac Davis and Helen Reddy were in need of major career injections after their early singles continued to underperform on the charts. Although Davis was a proven songwriter for other artists – including the likes of Elvis Presley, Kenny Rogers and his First Edition, and others – his own chart success was far from secured. After his version of "I Believe In Music" failed, his next single, "Beginning to Feel the Pain," petered out at No. 92 on the Hot 100 in 1971.
Davis was feeling the pain indeed.
Reddy's career wasn't doing much better. After her double-sided "I Don't Know How To Love Him"/"I Believe In Music," her next two singles – "Crazy Love" and "No Sad Song" – peaked at Nos. 51 and 62, respectively.
In the spring and summer of 1972, the chart fates would change for both artists. Well actually, it changed more immediately for one artist while the other would have to wait a few months longer for her career to take off.
In May 1972, Reddy released the single "I Am Woman," a celebration of women's strength and independence co-written by Reddy and Ray Burton. The song debuted on the Billboard Hot 100 on June 24 at No. 99.
A week later, on the chart dated July 1, Reddy's tune moved up one position to No. 98. That same week, Mac Davis debuted on the chart at a more respectable No. 77 with the song "Baby Don't Get Hooked On Me." The following week, "I Am Woman" inched up one more spot to No. 97 while Davis' tune climbed four spots to No. 73.
It was what happened the next week that seemed to suggest that Davis would have a much happier ending than Reddy. "Baby" jumped to No. 61 while "Woman" fell completely off the chart.
Mac's "Baby" would continue its climb throughout July and August before finally reaching the No. 1 position (in its 13th chart week) on September 23. Reddy's "I Am Woman" had been all but forgotten during this period, until the growing sentiment around the women's liberation movement caused people to embrace it as an anthem for the cause, and compelled radio stations to begin playing the song again.
Reddy would have the last word.
"I Am Woman" re-entered the national charts that September – the week before Mac's tune climbed to No. 1 – and began a much quicker ascent up the chart. This time, Reddy's tune went from 87-65-58-46-36. The week it entered the top 40 was the same week that Davis' tune, a song where the lyrics rejected the idea of commitment with a woman whom he wanted to "use and set free," relinquished its No. 1 spot to "Ben," the much more sensitive love song by then-14-year-old Michael Jackson – albeit about a pet rat.
Helen Reddy continued her steadfast climb up the charts – moving from 36-27-17-12-8-4-4-2 and finally No. 1 in December…nearly six months after its initial debut on the chart. Mac's "Baby" was gone from the chart before November even arrived.
But the sentiment carried by "Baby" was still all over the charts. Songs like the metaphorically phallic novelty of "My Ding-A-Ling" by Chuck Berry, and philandering tunes "Papa Was A Rolling Stone" by the Temptations, and "Me And Mrs. Jones" by Billy Paul were all No. 1 hits that fall, with the latter two flanking Helen Reddy's "Woman" at No. 1 in December.
Reddy – who was only the third of three women to reach No. 1 that year (and the first in seven months) – seemingly carried the musical message for all women at a time when men clearly had the most to say about relationships and the sexes (and those messages weren't always the most noble).
In fact, there were as many No. 1 songs by men whose protagonists had problems with commitment as there were No. 1 songs by women combined in 1972.
Reddy, who fully embraced her role as a champion of women's rights throughout the 1970s and beyond, would go on to have much more success than Davis on the pop charts, as she would reach No. 1 twice more: in 1973 with "Delta Dawn," a song whose earlier version by Tanya Tucker coincidentally had debuted on the Hot 100 the same week that Mac Davis' "Baby Don't Get Hooked On Me" did a year earlier; and with "Angie Baby," a fantasy/mystery tune about a troubled girl that topped the chart in December 1974. Reddy had three other top-ten hits and more than a dozen top-40 hits overall before the 1970s ended.
Mac Davis, who had success on both the country and pop charts into the 1980s, had 15 Hot 100 singles, only four of which reached the top 40, including three total top tens. Ironically, it was his "I Believe In Music" that became his signature song after he became popular as a TV personality and actor in the 1970s and '80s.
In fact, both Reddy and Davis had TV variety shows that aired on NBC during a time when music stars were doing that more frequently. Reddy's ran for eight episodes in 1973, while Davis' ran from 1974-76.
The parallels that both artists experienced in the early 1970s – first with their same-year recordings of "I Believe In Music" and later with their nearly concurrent, albeit ideologically opposite, first No. 1 hits in late 1972, and finally with their successive TV variety shows – were almost uncanny. The fact that the two singers were born within months of each other added to this fascinating connection.
Their unfortunate deaths at the same age on the same day in 2020 bordered on remarkable.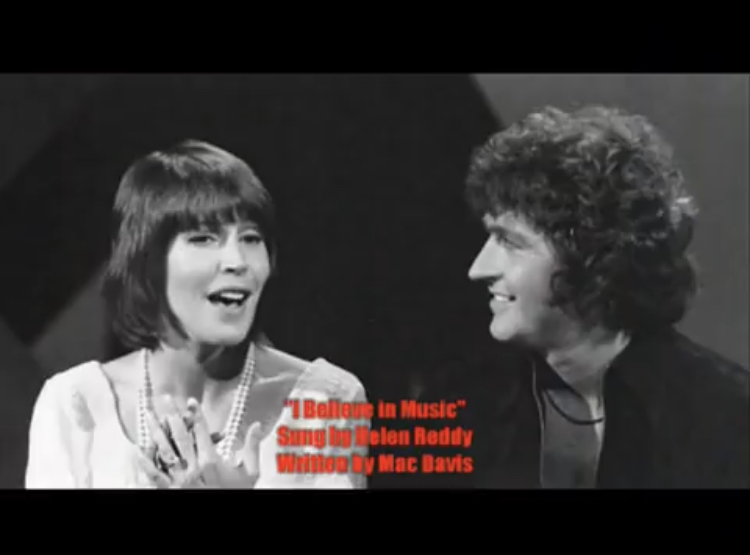 Both artists clearly "believed in music." Their careers were literally defined or launched by the same song that celebrated it. By that token, September 29, 2020 could arguably be the latest "day the music died."
R.I.P. to Helen Reddy (Oct. 25, 1941 – Sept. 29, 2020) and Mac Davis (Jan. 21, 1942 – Sept. 29, 2020).
DJRob
DJRob is a freelance blogger from Chicago who covers R&B, hip-hop, pop and rock genres – plus lots of music news and current stuff! You can follow him on Twitter @djrobblog.
You can also register for free to receive notifications of future articles by visiting the home page (see top for menu).