(November 23, 2020). This article contains a list of 75 female empowerment anthems that were written or co-written by men. Scroll down to get to the list, or read on for the preamble that sets the stage and takes us there.
How many of you knew that November 19 was celebrated around the world as International Men's Day, an occasion for celebrating men's (and boy's) contributions to family, community, society and country.
It's also a day to denounce stereotypes about gender roles and to remove the many negative images of men in our society.
If the extraordinary life and recent passing of the late Supreme Court Associate Justice Ruth Bader Ginsburg taught us anything, it's that behind every great woman, there (often) stands a very supportive man.
In Ginsburg's case, that man was her late husband, Martin Ginsburg, who once reportedly told NPR, "I think the most important thing I have done is to enable Ruth to do what she has done."
America got to see that dynamic at play again with the recent presidential election and Senator Kamala Harris' run as the nation's first-elected female vice president (still being disputed as of this writing, but hey…). Her husband Douglas Emhoff, who took an extended leave of absence from his own law firm in August to support his wife's campaign, will be the first "second gentleman" in U.S. history.
The male-female dynamic has often been a complicated one, particularly during the last half century as women have gained more prominent roles in society while men have (sometimes) been content to remain out of the spotlight while serving in a support capacity.
This same interrelationship has existed throughout pop music history, particularly with many of the greatest women's anthems of all time and the men who were involved in their creation.
Back in September, upon the passing of 1970s superstar singer Helen Reddy, I wrote an article about one of the most important such songs – her smash hit "I Am Woman" – and how that powerful feminist anthem was co-written by Reddy and a man named Ray Burton.
While his co-authorship was the subject of a royalties dispute back in the day and has been downplayed by historians in the years since, most agree that Burton clearly had something to do with the song's success, despite his contribution receiving nary a mention in the recent biopic covering Reddy's rise to superstardom on the heels of "I Am Woman" topping the charts in 1972.
I guess the story of how one of history's best known female empowerment anthems was partially written by a man doesn't really fit the narrative very well, does it?
Yet a search through history reveals that – as politically incorrect as this may sound – nearly all the great women's empowerment anthems of the past six decades or so had a man's hand in writing them.
In fact, I only found a handful of songs that could be considered true female empowerment classics that were solely written by women in that timeframe, including Dolly Parton's "9 to 5," the 1981 hard-working women's anthem written by the singer herself; Christina Aguilera's "Beautiful," a 2002 smash about one's inner beauty written by Linda Perry; and Jennifer Hudson's "I'll Fight," a song written by the legendary Diane Warren and featured in the film "RBG," a 2018 documentary about the now-departed Ginsburg.
This is not to discredit the women involved in each song's incredible commercial success and undeniable importance to women's empowerment, since clearly these tunes wouldn't have been so powerful and enduring without the ladies' unforgettable performances and uniquely female perspectives.
It's just the irony of knowing that a feminist classic like "I'm A Woman" was written by two men (Jerry Lieber and Mike Stoller) which adds to its intrigue. "I'm A Woman" was first recorded in 1962 by Christine Kittrell and later Peggy Lee, but popularized by singer Maria ("Midnight At The Oasis") Muldaur in 1974.
Similarly, Gloria Gaynor's timeless 1979 disco anthem "I Will Survive" was the result of two men named Freddie and Dino, who somehow with their words and music captured the frustration and defiance that Gaynor so memorably delivered in one of the most enduring and biggest-selling songs of all time.
All of this goes to show that men are not necessarily the enemy of women, in fact many men know and write women very well, especially in song. And while it's not always clear whether a man wrote the lyrics or if his contributions were limited to the music composition, a songwriting credit is a credit nonetheless – and all such credits get acknowledged here.
Yes, sisters may be doin' it for themselves, but the men played a huge role in creating these classic anthems!
So djrobblog has come up with an alphabetical listing of the 75 greatest female empowerment anthems recorded over the past six decades, which were either written or co-written by men. We list the male writer(s) or co-writer(s) for each song, along with the themes that made the songs so essential to female empowerment. All female co-writers are also listed along with other trivia tidbits about each song.
Read on to see this exclusive listing, and please enjoy the special Spotify playlist included at the end of the article.
And don't forget to scroll through all 75 by hitting the arrow at the bottom of each grouping!
Nov 11, 2020 - youtu.be -

5
Male writer(s): Kevin Kadish
Theme: body positivity, self-love
Note: Singer Megan Trainor co-wrote this, her first (and so far only) No. 1 hit! Its themes of body positivity and self-love resonated with a lot of people, and women in particular, who are often derided for having a little extra poundage in certain areas.
Nov 11, 2020 - youtu.be -

4
Male writers: Ritchie Cordell, Kenny Latina, Marty Joe Kupersmith
Themes: Defiance, empowerment, resistance, attitude
Note: Joan Jett co-wrote what has become one of the greatest hard-rock women's anthems of all time.
Nov 11, 2020 - youtu.be -

4
Male writers: Sean Combs, Jean-Claude Olivier
Themes: overcoming, self-affirmation, optimism
Note: Mary J. Blige and Arlene DeValle also co-wrote this understated R&B classic from MJB's iconic 'My Life' album, viewed by many to be her best.
Nov 12, 2020 - youtu.be -

2
Male writers: Chris Tompkins and Josh Kear
Themes: revenge, love rights, power, assertiveness
Note: Former American Idol Carrie Underwood made potential cheaters take notice when she unleashed this tutorial on relationship retribution in 2006. It's still one of her signature songs and a song no man wants his girlfriend or wife to get life lessons from.
Nov 22, 2020 - youtu.be -

2
Male writers: James Lloyd, Shawn Carter, Adrian Bartos, Sylvester James, Harvey Fuqua
Themes: defiance, assertiveness, sexuality, power
Note: This freak-flag hip-hop anthem belongs on the list just by its opening line alone ("I used to be scared of the dick, now I throw lips to the shit, handle it like a real bitch). Lil Kim (Kimberly Jones) received writers credits along with the five men listed above. Harvey Fuqua's credit came courtesy of the sample used from Sylvester's 1978 song "Was It Something I Said."
Nov 11, 2020 - youtu.be -

1
Male writers: Dieuson Octave (a/k/a: Kodak Black), Klenord Raphael, Jordan Thorpe, Anthony White, Laquan Green
Themes: attitude, overcoming odds, empowerment, sexuality
Notes: Cardi B (under her birth name Belcalis Almánzar) co-wrote what is currently the highest-certified single by a female rapper at nine million equivalent copies sold and counting!
Nov 11, 2020 - youtu.be -

2
Male writers: Fernando Garibay, Jeppe Laursen, DJ White Shadow
Themes: empowerment, sexual orientation, uniqueness
Note: Lady Gaga co-wrote this tune, which became her first to debut at No. 1 in 2011. She had another No. 1 debut in 2020, giving her the longest span of songs that debuted at the top, with nine years and three months between her first and her most recent.
Nov 11, 2020 - youtu.be -

0
Male writers: James (Jimmy Jam) Harris III and Terry Lewis
Themes: independence, control, empowerment, defiance
Note: Janet Jackson co-wrote this song with her producers. It was the title track and fourth single from her classic coming-of-age breakthrough album in 1986.
Nov 11, 2020 - youtu.be -

2
Male writer: Dallas Austin
Themes: Disapproval, defiance, sexuality
Note: Solely written and produced by Svengali-like Austin, this became TLC's first No. 1 hit and ranked as the third-biggest hit of 1995.
Nov 11, 2020 - youtu.be -

3
Male writer: Ian Kirkpatrick
Themes: overcoming, survival, independence
Note: Dua Lipa, Caroline Ailin and Emily Warren outnumbered the men in the co-write for this huge No. 2 smash from 2020. As of this writing, it's Lipa's biggest hit!
Nov 11, 2020 - youtu.be -

0
Male writer: Kenneth "Babyface" Edmonds
Themes: overcoming, inner peace, strength,
Note: This was Whitney Houston's eleventh and final No. 1 song on the Billboard pop chart. It also spent a record-breaking eleven weeks at No. 2 after retreating from its No. 1 debut.
Nov 11, 2020 - youtu.be -

0
Male writer: Stephen Bray
Themes: empowerment, self-expression, power, womanhood
Note: Madonna co-wrote this No. 2 classic with Bray from her critically acclaimed fourth studio album 'Like A Prayer' in 1989. It was kept from No. 1 by another woman, Martika, whose "Toy Soldiers" marched right over Madonna in the early summer of 1989.
Nov 11, 2020 - youtu.be -

3
Male writer: Dave Bassett
Themes: positivity, vulnerability, fight, overcoming, empowerment
Note: Rachel Platten co-wrote this 2015 smash, and it won the iHeartRadio award for best lyrics following its huge success.
Nov 11, 2020 - youtu.be -

3
Male writers: Mikkel S. Eriksen, Tor Erik Hermansen, Sandy Wilhelm
Theme: empowerment, self-love, achievement
Note: Katy Perry and Ester Dean were the women who co-wrote this explosive anthem, which was the third of a record-tying five No. 1 singles from Perry's 2010 album, 'Teenage Dream.'
Nov 11, 2020 - youtu.be -

1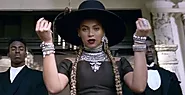 Male writers: Rae Sremmurd, Asheton Hogan, Michael Len Williams II
Themes: empowerment, consciousness, black girl power, independence
Note: Beyoncé Knowles may have shared a co-write with the three men above, but this song is among her signature hits, one that raised many political eyebrows when she performed it at Super Bowl 50 in 2016.

I hope you enjoyed the list and scrolled through all 75 classic women's anthems penned by men. Oh, and happy (belated) International Men's Day!
DJRob
DJRob is a freelance blogger from Chicago who covers R&B, hip-hop, pop and rock genres – plus lots of music news and current stuff! You can follow him on Twitter @djrobblog.
You can also register for free to receive notifications of future articles by visiting the home page (see top for menu).