When will they learn?
Well, if they haven't already, Empire actor Jussie Smollett's case should serve as a reminder.
In this day and age, video technology can be a blessing and a curse. And when it comes to criminals – or alleged ones – it can be their worst enemy. In fact, anyone even thinking about concocting a scheme as "carefully" choreographed as the fake hate-crime fantasy allegedly directed by Smollett should remember that and take heed before they hit the "execute" button.
In this age of social media, and in a post-9/11 world with security cameras at every storefront and in every taxi cab, and easily traceable ride-sharing companies like Uber and Lyft being what they are, a potential criminal actor like Smollett or his two Nigerian accomplices should remember that you can barely take two steps in 2019 without your every move (and your phone calls) being tracked with ease.
Today, timelines can be pieced together with near-perfect precision by trained detectives who, with the cooperation of a witness (or two in Smollett's case), can make what was once considered circumstantial become closer to hard evidence.
Except, Smollett's orchestration – assuming it's true of course – wasn't really that carefully done. The fact that he did it at all showed a carelessness that only the dumbest of criminals would think they could get away with.
Especially in a city like downtown Chicago in the swanky Streeterville area, where residents' and businesses' property investments are protected with security cameras at nearly every doorstep. All it took for the Chicago Police Department to piece together the events that led to Smollett's arrest on Thursday was an array of video footage (reportedly 55 different cameras throughout the city, some private, some public) tracing the two Nigerian brothers – Abel and Ola Osundairo – both before and after the alleged attack on January 29th.
Eventually phone records showing calls made between the parties, along with the $3500 check allegedly written to one of the brothers from Smollett's account, may prove to be the critical pieces of evidence needed to convict the actor, but it all began with the video footage, without which the brothers may have never even scratched police radar.
That was likely what Smollett, who is black and gay, was banking on when – as an alleged victim of hate crime – he recalled to TV host Robin Roberts on Good Morning America a "conversation with a friend" in which that person solemnly reminded Smollett that his "attackers" would never be caught, a conversation that evoked tears and anger from the actor at the feigned realization that his attackers might forever roam free while he carried the mental scars of his attack forever.
Didn't it almost seem then like he was hoping to channel to the police to turn off the investigation given his zero-hope prognostication?
Yet, despite its egregiousness, not to mention the distraction it created for a Chicago Police Department that surely didn't need one, Smollett's alleged crime pales in comparison to the one the CPD was simultaneously piecing together involving another singer/actor (of course, I'm being generous with the actor part here while crediting his "Trapped In the Closet" mini-films from the '00s)…the one involving R&B superstar Robert "R." Kelly.
Smollett's actions pale to Kelly's not only because of the nature of the crimes (R. Kelly was charged with ten counts of inappropriate sex acts, several involving minors), but because whereas Smollett wasn't banking on video evidence, R. Kelly likely created his…intentionally. If the alleged newly discovered video more clearly depicts Kelly engaged in a sex act with a 14-year-old girl than the previous video did, it creates a whole new dilemma and possible legal outcome for the singer.
As anyone with or without a criminal law degree might guess, video evidence is probably the most compelling evidence of all, arguably even more so than eyewitness accounts, which still have to pass the he-said/she-said test, and which usually take into account a person's motives – dubious as they may be – while considering the reasonableness of his or her story. The main reason the first sex video (allegedly of Kelly and a minor) didn't doom him in the earlier criminal case was likely its poor quality (as well as the alleged victim's unwillingness to testify).
A higher bar that prosecutors may have to cross in Kelly's case now is the issue of double-jeopardy, particularly if the girl in the newer video is the same as the one allegedly in the previous tape, for which Kelly was already tried and acquitted. Kelly's attorneys will almost certainly lean hard on that defense as it is applies in the state of Illinois.
Still, one has to wonder why a video would exist in the first place. It is usually the cornerstone piece of evidence to a prosecutor's case, and it will likely be in the case against Kelly, who had to have known that when it was created.
But the existence of the video – as well as the fact that it was leaked to authorities – also suggests that someone else was complicit in the Kelly criminal act. And just like Smollett's conspirators in the fake hate-crime case, someone with knowledge of Kelly's exploits – besides Kelly or the girls themselves – will likely be there to corroborate the story against him, lest they also be brought up on charges involving child pornography.
While these two stories were playing out in the Windy City, another investigation involving a different Robert and inappropriate sex acts was developing over a thousand miles away in Jupiter, Florida…that of New England Patriots owner Robert Kraft.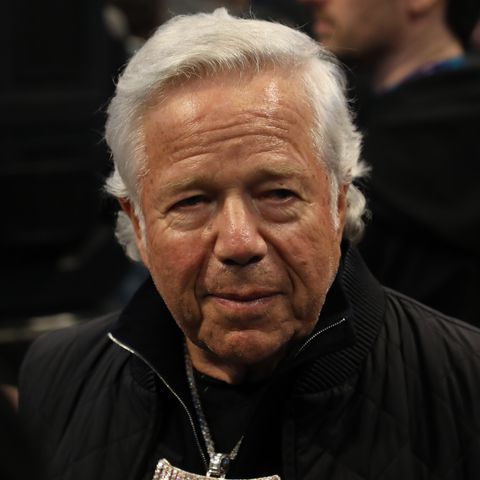 The alleged crime? Solicitation of prostitution in a Jupiter spa that may also be tied to a much more serious sex-trafficking operation (in other words, an illegal operation that involves the transporting of people from one country to another for the purpose of sexual exploitation).
The evidence? Surveillance video footage of Kraft allegedly involved in acts of "sexual servitude" at the spa. If true, and given the number of people already implicated, this will surely have a long-lasting rippling effect and should be appropriately dealt with by the NFL, as it would any of the players who are often punished for lesser offenses (like kneeling in protest against social justice).
A spokesperson for Kraft has "categorically denied" the charges.
That may be the case, but it will be much harder to deny what's on video, assuming one exists… and assuming it's clear.
Yep, video evidence – and app-based technological evidence in general – is everywhere now and is still a potential criminal's kryptonite.
Now if it were only also a better deterrent…
DJRob
DJRob is a freelance blogger who covers R&B, hip-hop, pop and rock genres – plus lots of music news and current stuff! You can follow him on Twitter @djrobblog.