On Monday, May 15, 2017, I got to see two of the best bands of the 1980s in the same concert here in the Chicagoland area.  Both were duos.  One was Daryl Hall & John Oates, the other Tears For Fears.
I know…odd pairing, right?  A concert with those two acts on the same bill would never have happened in the mid-1980s when they were both at the height of their popularity.
After all, as far as the '80s went, Hall & Oates' prime years were ending just as Tears For Fears' were beginning.  Hall & Oates' last Number One single ("Out of Touch") happened in December 1984.  Tears for Fears' first ("Everybody Wants to Rule the World") occurred just six months later in June 1985.  It was like two ships passing in the night – one coming and the other going; one figuratively waving a "1980-84" banner, the other "1985-89."
It was literally a tale of two halves.
But which '80s half-decade they were associated with wasn't their only major difference.   In their prime, Hall and Oates was a soul-influenced holdover from the 1970s, a band whose early work was inspired by the many R&B groups who hailed from their hometown of Philly, PA.
Tears for Fears bridged the 1980s and '90s with a brand of synth-pop mostly owed to the second British Invasion.  Instead of the Temptations, Smokey Robinson and Philly Soul, their biggest influences were the likes of Brian Eno, Talking Heads and Peter Gabriel.
As someone growing up in the eighties, H&O was a group whose records your parents likely also bought, while T4F represented the cooler kids on the block – a band that you could proudly call your own.  The younger band better reflected your own angst about entering adulthood and helped you ponder what it all meant.
Musically, the older act was unabashedly pop with saccharine-filled songs like "Kiss On My List," "You Make My Dreams" and (my personal fave) "Private Eyes."  The younger was darker and moodier with introspective fare like "Mad World," "Woman In Chains" and "Head Over Heels" filling their song repertoire.
To top it all off, one had members who were born in the 1940s, the other in the '60s.
Yet, here they were in 2017 sharing the same venue and stage on the same night.
And for all their differences, their pairing somehow seemed to work, especially for eighties pop heads like me and the thousands of others who filled Chicagoland's Allstate Arena, many of whom probably enjoyed both bands back in the day, even if for different reasons.
And those reasons were on display on this night during a three-hour '80s extravaganza in which – if this were a battle – one clearly emerged the winner (and it might not be the one you think).
As we entered the venue, a talented Daryl Hall protégée named Allen Stone was completing his opening-act set, which, as far as opening acts go, likely served its purpose as time-filler entertainment for those restless early concert-goers already in their seats.
I enjoyed his rendition of "I Say A Little Prayer For You," the Burt Bacharach/Hal David tune made famous by Dionne Warwick and Aretha Franklin many years ago. And Allen is indeed a talented musician who did not drag out the affair longer than it deserved, which was good.
But minutes after Stone's set, Tears for Fears, namely Roland Orzabal and Curt Smith, had the crowd completely hyped with that familiar opening keyboard riff for "Everybody Wants to Rule The World," that first No. 1 single here in America and a song that likely epitomized the '80s better than any other song played this night by either act.
Helping set the stage was an even moodier remake of that classic by millennial act Lorde, which served as the band's intro while they entered from stage right.
Tears for Fears followed their No. 1 classic with the less familiar "Secret World," which led to the anthemic, Beatles-inspired psychedelia in "Sowing The Seeds Of Love."  This, in turn, was followed by the under-appreciated 1990 single, "Advice For The Young At Heart."
(djrobblog tip: If you're not familiar with that one, I recommend you add "Advice" to your playlist immediately.)
As any techno-pop band would, Tears for Fears played all 13 songs (see set list below) straight and tight, with each tune sounding refreshingly true to their original versions.  This was a tasking made easy by the likelihood that some of the more technical keyboard flourishes were programmed into a synthesizer, just as they had been in the '80s.  It also helped that singers Orzabal and Smith had few problems hitting the high notes of the originals (the same could not be said of the headliners an hour or so later, which I'll get to shortly).
The crowd was really into the Tears For Fears set, singing along to the tunes they knew ("Everybody Wants…," "Mad World," "Sowing the Seeds," "Head Over Heels," and "Shout"), and listening contentedly to those they mat not have ("Secret World," "Everybody Loves A Happy Ending," "Memories Fade" and another personal fave, "Pale Shelter").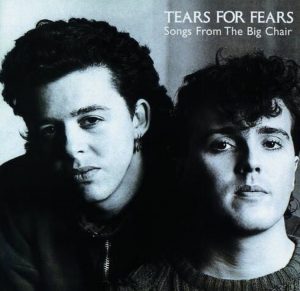 Indeed, as Curt Smith introduced the song "Change" by asking how many people remembered their first album (The Hurting), I couldn't help but wonder how many in the loudly cheering audience were actually thinking of T4F's American breakthrough, Songs From The Big Chair.  After all, that was the album that introduced most of us to the band.
But The Hurting contained songs that were as good, four of which ("Change," "Mad World," "Memories Fade" and "Pale Shelter") were played on this night.
The show's highlight may have been Roland Orzabal's performance of the non-T4F '90s song "Creep" (no not TLC's big hit, but the one by alt-rock group Radiohead).  This crowd pleaser had folks singing along gleefully as Orzabal ended it with a subdued, children's lullaby-like keyboard solo.
Ultimately, the band concluded with three Orzabal-led songs ("Break It Down Again," "Head Over Heels" and the predictable encore "Shout") before yielding the stage to their senior counterparts, H&O.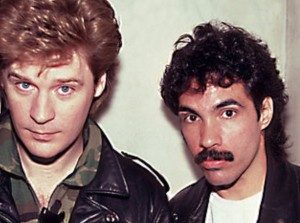 Hall & Oates' show was starkly different (like the bands themselves).  Where T4F played their hits tight and closely aligned with the originals, H&O played loose with extended instrumental sections that likened them to a jam band.  All the tunes were played in lower keys than the originals (owing to Daryl Hall's likely inability to reach those famous highs at age 70 that he could 30-plus years ago).
This was also clearly a Daryl Hall showcase, with the singer freely ad-libbing new vocal arrangements on nearly every song.  "Adult Education" kicked it off.  "Maneater," their new wave entry (and biggest hit) from 1982, was next and with a more hard-rock arrangement than the original.  The once soulful ballad "One On One" came across as an extended rock remix, with a lot of reverb thrown into Hall's mic to further showcase his aging but still-smooth vocals.
There was also the always reliable longtime, long-haired H&O sax player Charles DeChant, whose horn solos were familiar and welcome.  In fact, they were among the few nuggets that bore resemblance to the original tracks during H&O's performance.
Hall & Oates' set was highlighted by their 1980 comeback hit, a remake of the Righteous Brothers classic, "You've Lost That Lovin' Feeling."  The crowd sang along to this one the loudest, perhaps because it was the easiest song with which to do so, as the duo sang the chorus faithfully to their original, unlike the other tunes.
Then there were the two songs that showcased Hall's grand-piano playing: "Sara Smile" and "Wait for Me."  On the latter, the song's lower register made it sound more depressing than the original – a version which, while sad, still seemed more hopeful and optimistic by comparison.
The affair ended on a more upbeat note, with the perky pop staple "You Make My Dreams" being followed by three uptempo No. 1 hits, "Rich Girl," "Kiss On My List" and "Private Eyes," all three of which had people dancing in the aisles in approval.
All in all, Hall & Oates' performance was entertaining, but not as much as that of their opening act, Tears for Fears.
And even with the passage of time blurring that mid-'80s dividing line delineating when one duo was going and the other coming, this show seemed to make it all clear again where each band stood on that '80s continuum.
But we loved both groups then for different reasons.  And this current tour will probably do little to change that.
DJRob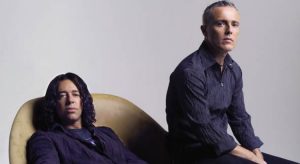 Tears for Fears' Set List:
"Everybody Wants to Rule The World"
"Secret World"
"Sowing the Seeds of Love"
"Advice for the Young at Heart"
"Everybody Loves a Happy Ending"
"Change"
"Mad World"
"Memories Fade"
"Creep (Radiohead cover)"
"Pale Shelter"
"Break It Down Again"
"Head Over Heels"
"Shout" (encore)
Hall & Oates' Set List:
"Adult Education"
"Maneater"
"Out of Touch"
"Did it in a Minute"
"Say It Isn't So"
"You've Lost That Loving Feeling" (1980 remake of the Righteous Brothers song)
"One on One"
"She's Gone"
"Sara Smile"
"Wait For Me"
"Is It a Star"
"I Can't Go For That (No Can Do)"
"You Make My Dreams"
"Rich Girl" (encore)
"Kiss On My List" (encore)
"Private Eyes" (encore)